MOC-20920 The LIEBHERR LTM11200 WITH RC Liebherr | MOC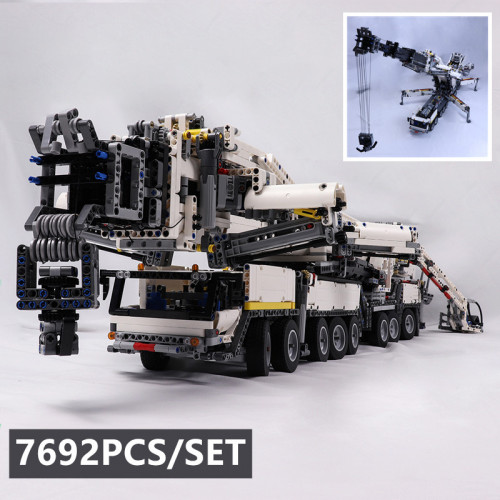 The Liebherr LTM11200 With RC | TECH

MOC/ 7705PIECES
This is a MOC Technic fully RC version of the Liebherr LTM11200 crane. The model uses 8 motors to drive 18 separate functions. All functions can be operated remotely using the PF system, apart from three functions that need manual support. These are the: extending the boom, raising the stabilizer arms and the rotating the superstructure.

Be sure to check out the link below to purchase the manual from the designer,the cost has been way down than anywhere else:
https://rebrickable.com/mocs/MOC-20920/Jeroen%20Ottens/rc-liebherr-ltm11200/#comments

Item Details:

7705+ compatible bricks
Motionless Size: W : 32cm L : 135cm H : 26cm

Expanded Size:W : 54cm L : 135cm H : 250cm

18 Motorized Function
8 RC Channels

Important Note on Shipping & Package

Packed with protective foam envelope and paper carton WITHOUT original box. Items are repacked into padded envelopes with suitable carton box for maximum protection.
We ship via trackable postal or carrier service depending on the destination which usually takes 15-20 working days.
Please allow 5-7 working days to process and sort the order after payment is confirmed.